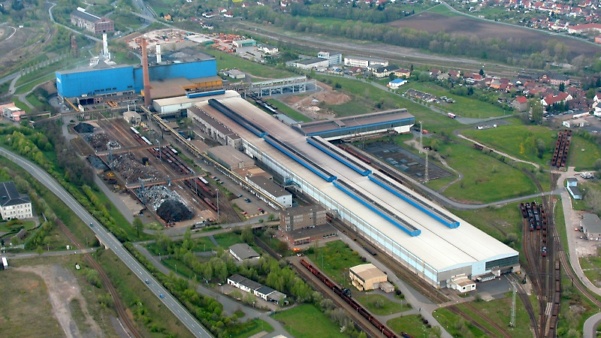 Traditional steel with a future.
Steel produced in the green heart of germany
Stahlwerk Thüringen is a modern company in the green heart of Germany at the location Unterwellenborn, close to Saalfeld. Representing the traditional heavy industry we have become a pioneer for sustainability and environmental protection.
The current steelworker generation
Presently about 700 staff are employed at Stahlwerk Thüringen. Our high quota of skilled workers enables us to occupy every position with experienced staff. They will have normally completed their vocational training at Stahlwerk Thüringen following in the footsteps of their forefathers who also produced steel on this site.
A comprehensive range of high quality profile steel
Our society needs huge volumes of steel. Therefore we have a yearly production of more than 900.000 t. This is mainly profile steel in high grades. So we produce steel that maintains its mechanical properties at temperatures down to -50°C as well as high temperature steel used in power station applications which is able to withstand temperatures of 400°C for a period of 40 years. Offshore steel is one of our specialities. It is used for the construction of oil platforms exposed to permanent severe environmental conditions.
Steel made in Thuringia produced from 100 % recycled scrap and used all over the world.
We deliver our products to steel distributors in more than 60 countries. The scrap for our steel comes primarily from within a 300 kilometres radius of our site. Since steel is one of the few resources which can be completely recycled and used for a wide range of applications, steel will remain an essential raw material for our society in the future.