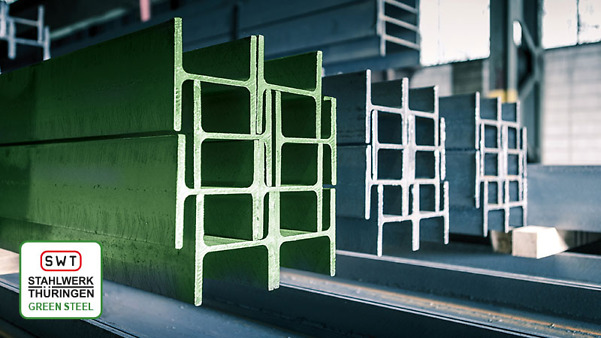 Green Steel that supports our environment
All details about the product line SWT Green Steel at www.greensteel-swt.com.
We consistently implement the SWT Green Steel Strategy and strive for a climate-neutral design and development of the central corporate processes. Our SWT Green Steel Strategy comprises three core areas:
SWT GREEN ENERGY for the substitution of fossil fuels
For our SWT Green Steel, we use 100% renewable electrical energy from Scandinavian hydropower, guaranteed by guarantees of origin. In addition, we have launched extensive projects to expand the production of regional renewable energy and to keep our electrical energy 100% green. In the short term, we will produce our own electricity on the company premises with photo-voltaic systems. We are initiating and driving regional solar power projects, planning to use regional solar power and investigating possibilities to use wind energy.
We will successively replace fossil fuels with renewable input materials. Our long-term goal is to use 100% fossil-free alternatives such as biogas and biocoal.
By 2040, we intend to use hydrogen produced in a climate-neutral way and thus also replace the fossil fuel natural gas. We are looking intensively at various options for the availability of the hydrogen we need.
We are planning to expand the use of waste heat, for example from our waste gas streams, in order to generate useful heat. The existing plant-internal local heating network can be supplemented by further heat paths and buildings to be connected.
Our company buildings are also being renovated for energy efficiency, thus contributing to the efficient use of energy.
SWT GREEN LOGISTICS for climate-neutral internal and external logistics
We were the first steelworks in Germany to commission DB Cargo with CO2-free transports. We ship around two thirds of our finished products by wagon. Of these, a large proportion have zero greenhouse gas emissions, with destinations in Sweden, Denmark, the Netherlands, Austria, Belgium and Switzerland.
In the future, truck transports will be carried out with biodiesel, hydrogen or the latest truck drive technology.
For ship logistics and port handling, we prefer logistics technologies and partners that offer reduced CO2 emissions.
Regarding internal transport, our long-term goal is to replace all internal combustion engines with sustainable technologies such as electricity, fuel cells or biofuels. This will affect all means of transport and locomotion, i.e. vehicles, scrap ferries and locomotives.
We will erect e-charging columns for electric cars at selected parking areas. These charging points will then be partly powered by solar energy obtained from photovoltaic systems on our factory premises.
SWT GREEN EFFICIENCY to reduce the use of resources
We are continuously reducing the use of valuable resources and step by step achieving an improvement in process efficiency. So far, the implementation of energy efficiency measures has already saved over 100 million kilowatt hours.
By modernising and technically optimising our burner technologies at our electric arc furnace, we expect a reduction contribution of more than 1,200 tonnes of CO2 per year. Furthermore, we are optimising our distributor fires and are planning speed-controlled operation of our dust extraction fans in the steelworks for 2024.
We prepare our metallurgical by-products for the subsequent recycling routes. In this way, we close global material cycles in the long term and reduce the consumption of natural resources. Our electric furnace slag is used in road and industrial surface construction, and we are constantly working on expanding the fields of application. The iron carriers obtained during slag processing are returned to the steelworks process. The mill scale is used in the cement and automotive industries as an iron oxide carrier. Our partners recover high-purity zinc from our filter dust. At the end of their useful life, the spent brick lining from our kilns is recycled and processed into new bricks.