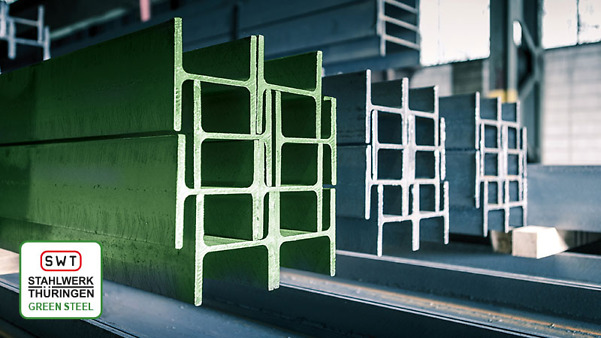 Green Steel that supports our environment
Here you will find information about activities to produce our steel more environmentally aware.

More details concerning our product line SWT Green Steel www.greensteel-swt.com.
Green Electricity for Green Steel.
Operating our business sustainably is a core value of our corporate policy!
To ensure sustainability today and in the future, we strive for a climate-neutral design and development of our central business processes.
We aim to be able to offer our customers climate-neutral steel products.
Due to the use of "green electricity" – produced from Scandinavian hydropower – we can offer remarcably CO2 reduced steel products.
With buying Guarantees of Origin we ensure that the electricity required to manufacture Green steel products at SWT, does not to come from plants subsidized by the Renewable Energy Act (EEG) for regenerative power generation.
We are sure of having made the right decision for the benefit of our customers and society.
Electric Steelmaking and Hydrogen
On Tuesday, 19 October 2021, Stahlwerk Thüringen hosted a meeting on the topic "The steel industry in the H2-transformation – The specific role of the electric steel route".
We welcomed important political figures like Mr Dr Kaufmann (Innovation Officer "Green Hydrogen" of the Federal Ministry of Education and Research), Mr Dr Ilgmann (Head of Department Economic Policy of the Thuringian Ministry for Economic Affairs, Science and Digital Society), Mr Wolfram (District Administrator of the district Saalfeld-Rudolstadt) as well as Mr Höhne (Chief Executive of the Chamber of Industry and Commerce in Gera) and Mr Dr Kühne (Fleet Manager Vattenfall Wasserkraft GmbH).
Our management representatives have conducted intensive conversations on opportunities and risks of the upcoming transformation of the steel industry using hydrogen in production processes.
The special role of the energy-intensive scrap-based electric steel route within this transformation process was also lively discussed.
In addition to sufficient and affordable amounts of green energy, adequate political action (targeted and compensatory subsidy programs, Carbon Contracts for Difference etc.) is required in order to gradually create the transition to a more sustainable production.
The management of Stahlwerk Thüringen explained its conceptions of projects to generate electricity from waste heat, to use electricity from photovoltaic systems as well as our project "MaxHygen" to produce hydrogen using green electricity from hydropower – this project was being initiated together with Vattenfall Wasserkraft GmbH.
Photo: Archive of Stahlwerk Thüringen