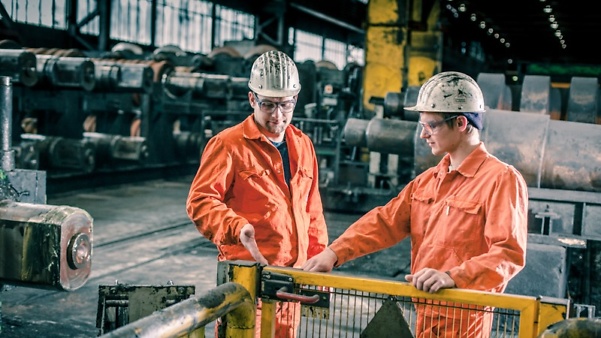 Steel with the focus on safety.
The human resource is our greatest asset. Therefore we implement various activities for the comprehensive occupational health and a highest safety in the workplace. All measures are based on our occupational health and safety management system.
Our integrated Health & Safety Management.
Our motto "One Minute for our Safety – That's all it takes!" is the basis for activities to be integrated into the processes of all company departments. Since 2000 we have been working to the integrated Management System of the "Deutsche Gesellschaft für Qualitätssicherung (DQS GmbH)". Our processes are checked by yearly audits. Every year we have been awarded the health and safety certificate. Certification also means that we equip our production plant with safety devices according to the latest standards. This equipment is an important contribution to ensure safe and healthy working conditions.
Regular training and communication for more safety.
We continuously carry out stress analyses and risk assessments. Our staff regularly attends seminars and training courses in order to receive up-to-date information and have the latest regulations for behaviour in the workplace. So we raise the individual awareness for potential risks. We similarly sensitise each employee for all aspects of health and safety.
Our participation in the health and safety competition GESiM of the French Employers' Confederation for the steel industry is another guarantor for permanently improving the appropriate safety regulations at Stahlwerk Thüringen.
Highest safety for our business partners.
Our high standards for Health and Safety also apply for our business partners such as suppliers, service providers and customers. Once the business partners are on our premises we insist and ensure that they strictly observe the safety regulations applicable at Stahlwerk Thüringen.