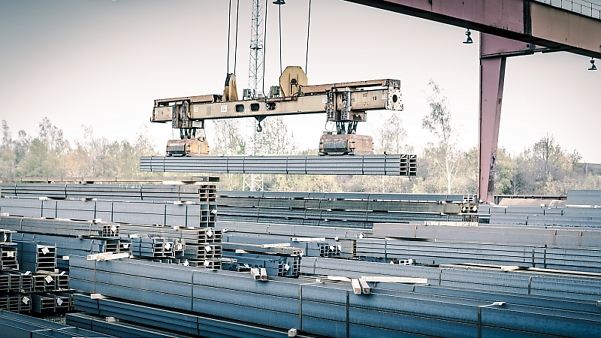 Our terms of delivery
Unless otherwise agreed the stipulations of the EN 10021:2006 apply for the general technical terms of delivery.
General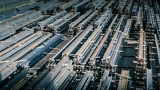 Minimum order quantities of 5 tons per section, steel grade, length, and destination apply for the section groups IPE A, IPE AL, IPE O, IPE V, HE AA, HP, S, UB, UC, W, C and H. The total order quantity has to be a shippable unit (standard quantities: 24 t for trucks or 50 t for railway transport). Deviations only permissible after agreement with SWT.
Bundles
Bundles are individually weighed and labelled at the end of the production process. Please observe the guidelines for grades with quantity limits (see the corresponding detail tables from page 14 of the product catalogue). The standard bundle weight is approx. 5.5 t. For individual bundle dimensions and bundle weights the SWT internal guideline for stacking is to be applied. Deviations only permissible after agreement.
Individual sections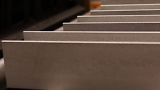 Individual sections are delivered and invoiced based on the theoretical weight.
Permissible deviations of the delivery quantity
Order without letter of credit:
5 t to < 40 t = +/- 10 %
> 40 t = +/- 6 %
Order with letter of credit:
5 t to < 40 t = + 0 / - 10 %
> 40 t = + 0 / - 6 %
Minimum/maximum lengths
Minimum length: 6.0 m (4.0 … 6.0 m upon request)
Longest length for bundles: 24.1 m
Lengths for individual section dispatch: 20.2 – 28.1 m only upon request
Permissible length deviations: - 0 mm / + 100 mm
Deviations for length tolerances only upon request.
Rolling tolerances
The usual rolling tolerances for dimension, theoretical weight, form and length are detailed in the technical data and are in line with the applicable standards.
Limited rolling tolerances
Upon request it is possible to produce profiles with specified dimensions with limited tolerance – e.g. half or quarter of the corresponding standard.
Readiness for dispatch ex works
Standard: 0 – 3 days

Internal inspection after rolling: + 5 days

Third party or visual inspection: by arrangement.
Delivery form
Standard dispatch unit
U-bundles: bundled nested and with web horizontal, bottom side open
Section bundles: bundled nested and with web horizontal
HEM-bundles: bundled nested or not nested and with web horizontal
Further bundle configurations to be agreed
Individual beams
for material lengths > 24.2 m web unbundled horizontally
Standard binding
up to 6.0 m: 4 bindings
6.1 – 12.0 m: 6 bindings
12.1 – 18.0 m: one binding per 800 kg bundle weight, at least 6 bindings
18.1 – 24.1 m: 8 bindings
Maritime freight: Standard binding + one additional binding at each end of the bundle
Identification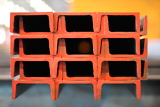 The bundles are identified by labels. Unbundled individual sections are labelled using one label. Special customer request for labelling, e.g. individual profile labelling within bundles, is to be agreed.
Bundle label: Coated film, white colour, yellow top edge, trade mark red. 1 or 2 labels on each bundle, fixed to one binding. Content: dimension, length, heat (not standard), grade, weight, order number & item, bundle number, number of profiles, additional text (not standard).
Additional label: Additional texts can be put on an additional label for up to 12 lines x 40 characters (max. 250 characters) upon customer request.
Individual profile label: White paper, usually fixed on the web at one end of the profile, approx. 2 – 5 cm from the saw cut. Standard content: dimension, length, grade, order number & position (can be expanded upon customer request, e.g. heat number). Non-bundled material is always supplied with an individual profile label.
Steel stamping: Content to be agreed (e. g. heat number, trade mark, grade, acceptance stamp).
Colour Marking: The colour marking of bundles can be carried out on the saw cuts and/or as colour line at the outsides of the bundle. Single profile colour marking is only possible on the saw cut.