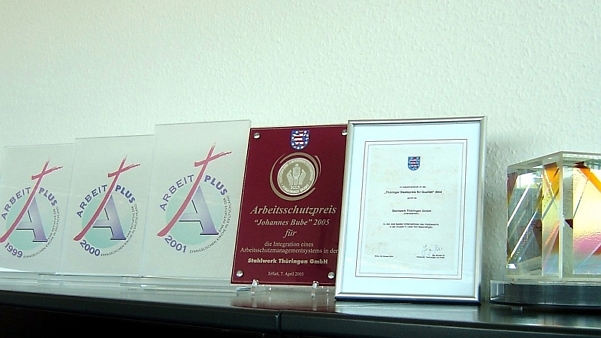 Steel with secured quality.
On the basis of our capable integrated quality management system we aim for high product quality in all steps of the production processes. The results are high product quality, customer satisfaction, delivery reliability and a low claim quota. Our production processes are characterized by a consistent high quality. All necessary measures are co-ordinated by the quality assurance department.
Quality assurance at the scrap delivery.
At the point of delivery of the scrap, which is our basic raw material for the steel made in Thuringia, we thoroughly inspect to ensure material purity and the absence of contamination. This initial stage of our quality control allows only scrap of the optimum quality to be used in our electric steel plant.
Here you can find more information.
Quality assurance at the melting and continuous casting shops.
During the melting process of the scrap and the subsequent treatment in the ladle furnace we take the first samples which are analysed with an emissions spectrometer. Based on these measures we determine the quantity of alloy additives required. The correct chemical composition is established in the electric steel plant giving us the exact grade required. After the casting process the pre material, so called beam blanks, is getting approved for size accuracy and correctness. The next production stage in the rolling mill the beam blanks are transformed to the requested final structural products, this is where the steel gets its form.
Here you can find more information.
Quality assurance in the rolling mill.
Samples from finished structural products are taken in the rolling mill. Various material testing methods are used to inspect the specimens. The individual testing is carried out according to the applicable standards and the requirements of our customer. The testing methods of our accredited material testing include the impact test and the tensile strength test. These tests enable us to establish whether the steel meets the strength requirements of the standards and the customer requirements. Furthermore controls and measurements of technological parameters, rolling temperatures, size accuracy and correctness of our sections are done in the rolling mill. Before shipment bundling and marking are proved. Each test is carried out in line with our management system.
Here you can find more information.
Here you can find certificates and approvals.