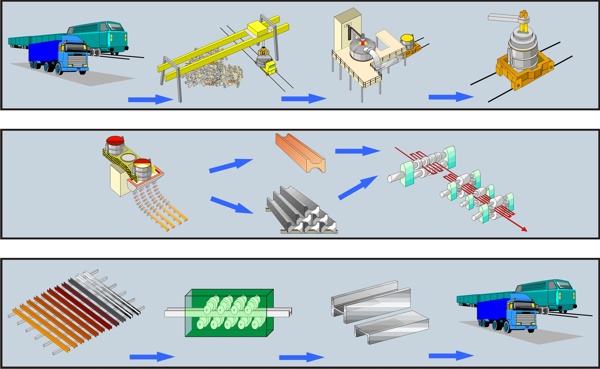 Production Process.
Our integrated steel plant (mini mill concept) produces steel sections using the following process steps.
Scrap Yard

A mixture of various types of scrap is our most important raw material for the production of steel sections.

Melting Shop

The scrap is molten in the direct current electric arc furnace. This uses as much energy as a town of 100.000 inhabitants. The next step is the ladle furnace. Here we add alloys to produce the steel grade required.

Casting Shop

As a preparation for the further process steps the molten steel is poured into moulds for producing beams. We use the continuous casting machine for parallel casting of 4 beams blanks. The flame cutting machine cuts the beams to lengths between 4.5 and 11 meters.

Rolling Train

After preheating to 1250° we produce the steel sections as per the customer's specification on three rolling stand groups.

Finishing Department

The sections are straightened, sawn to the ordered lengths, bundled and labelled.

Dispatch

Our products are shipped via wagon or truck to the customers in Europe and all over the world. Our steel sections are used on important construction sites worldwide.