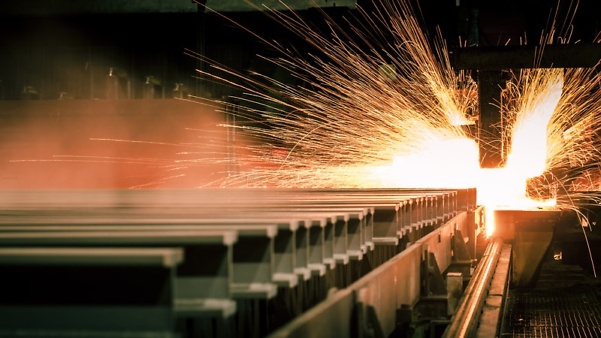 Steel creating added value.
The advantages of Stahlwerk Thüringen
Permanent team of experts: Stahlwerk Thüringen employs highly qualified manpower. Experienced skilled workers are employed throughout the plant. Furthermore each employee in the production has the technical knowledge about the details of the steel production. As everybody speaks the same technical language we get on well with each other. At the same time there is a low turnover of staff, especially of the management, engineers and skilled workers. A wide range of specialized knowledge and decades of experience resulting from this consistency which we consider unique significantly contributes to the quality of our products and our work. More about our fringe benefits...
Rapid decisions: Lean structures promote our short decision-making processes. Therefore the cooperation between our business units is exceptional. We coordinate customer enquiries on an interdepartmental basis for a short-term scheduling of our production capacities. So we are able to react to the dynamics of our market and implement solutions efficiently and swiftly.
New technologies: We work using the state of the art technologies, continuously modernizing in order to future-proof our facilities. We act decisively and pre-emptively and do not wait until we are forced to implement structural changes. For example, our spirit of innovation is demonstrated in the continuous development of instrumentation and control systems in order to optimize our quality and processes.
Internal developments: We design and process our tools ourselves and so we are able to launch new steel products within in very short period. More about our rolling mill...
Efficient ways: Stahlwerk Thüringen is efficiently laid out in the form of a huge U: The scrap enters at one side of the U and passes via the scrap yard directly to the melting shop. Afterwards, the molten steel is processed in the section rolling mill. There the finished product is loaded onto railway wagons or trucks and leaves the plant at the other side of the U. Since our steel plant and our rolling mill are adjacent we do not need any intermediate transport vehicles within the production site. These short and effective production channels increase our flexibility and efficiency. More about our production process...
Trustful cooperation: We mostly work with suppliers and partners from the surrounding area. Our cooperation is well established and based on trust as we have been working successfully together for many years. This proximity as well as the established and finely tuned processes also ensure that Stahlwerk Thüringen is able to deliver the highest quality flexibly and swiftly all over the world.
Fast production cycle: It only takes eight hours to convert the scrap into steel sections.